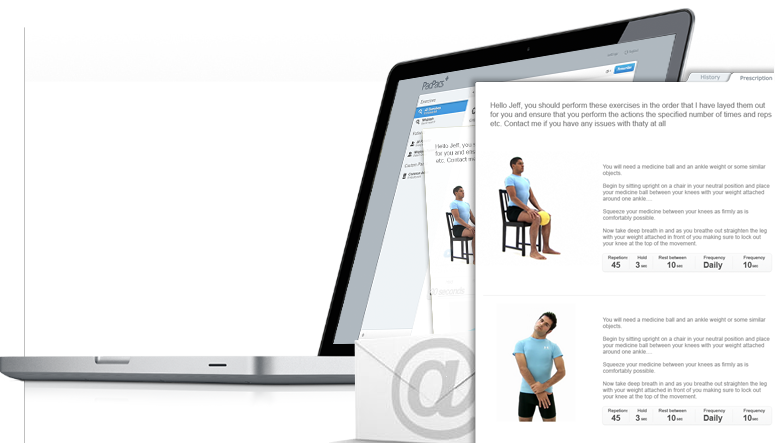 Online Rehabilitation Exercise and Client Management Software
Prescribe Exercises to e-mail and smart phones
Patient Management Simplified
Multi-Angle Exercise Videos
When creating the PacPacsPlayer, we wanted to make sure that all of our exercises could be understood with complete certainty. As a result, our player offers a variety of angles along with a voice over explanation talking you through your movements with some handy hints along the way. see demo
Expanding Exercise Library
The PacPacs Exercise Library is both diverse and extensive. We are constantly in the studio driving to make the library bigger and better. So if you need something, just let us know. Alternatively, we offer the ability to upload your own exercise videos so you can really personalise your service see demo
Patient Management Made Simple
With client histories, contacts and consultation sheets all stored on the site, the speed and ease at which you can organise your patients and prepare for revisiting clients is really rather handy! We will even let you know when your patients have viewed their exercises.
Printable Handouts
We understand that not all of your patients may have joined the World Wide Web quite yet, or that they would prefer to take something tangible away from your treatment sessions. As such, a traditional printout facility is available.
Secure Web-based Interface
When dealing with personal and potentially sensitive information online you can never be too careful. Data is transmitted over a 256bit SSL Encrypted connection, certified by Equifax. See system requirements
This ScreenFlow video requires a more recent version of the Adobe Flash Player to display. Please update your version of the Adobe Flash Player.
Thank You for choosing PacPacs
You will shortly be receiving a welcome email to help you get started. But if you want to just get stuck in follow the link below to take you to the PacPacsClinic login screen.
http://www.pacpacsclinic.com/
You login using the email address and password you specified when creating your account